The Edinburgh Blues 'N' Rock Festival returns this year on Saturday 22 September at The Corn Exchange. This year the festival will be promoted and programmed by the award winning Edinburgh Blues Club who have shaped a fantastic contemporary lineup for 2018.
The line up is as follows:
Ten Years After
Ten Years After are back together by popular demand on their 50th anniversary and touring behind a new album released last summer. Their now legendary encore, I'm Going Home performed at The Woodstock Music and Arts Festival in August 1969, was captured on film and exposed their jazz, blues, rock amalgam to a large audience who were blown away by the intensity of the band's performance when the Academy Award winning documentary was released. Their ten-minute appearance in the film is an acknowledged highlight and established Ten Years After a place in rock history. Veteran bass player Colin Hodgkinson and singer/guitarist Marcus Bonfanti joined the band in 2014. They are recreating the music, energy and excitement they've been known for over the past four decades. Ten Years After plays most of their classics, but it is not an oldies band riding around on past successes. It has taken up the reins and is riding into the future!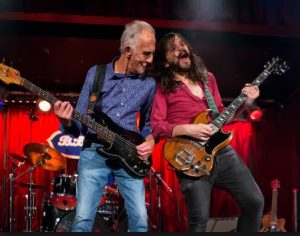 http://www.ten-years-after.co.uk
Dana Fuchs
Dana Fuchs is a phenomenon, a singer whose mesmerizing voice and presence has led critics to compare her to Rock Legends from Janis to Jagger. Fittingly, she appeared in the off-Broadway production, Love, Janis. The multi-talented singer- songwriter stars as, Sadie, in one of the most talked-about cult films, Across The Universe, where she has a major presence both in the film, and on the soundtrack. Perhaps Stereophile Magazine said it best, "Imagine a sultry, more emotive Janis Joplin, backed by a higher energy version of the late 60's Rolling Stones… Rock n' Roll doesn't get any better." Dana is currently embarking on her Ready To Rise world tour in support of her forthcoming new album, Love Lives On. She and her band have been wowing audiences worldwide for over a decade with her fiery, soulful singing. Dana is bringing her Big Soul Band which includes a horn section that has previously performed with Amy Winehouse and Tom Jones!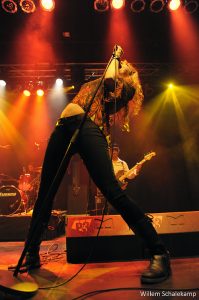 https://www.danafuchs.com
The Rising Souls
Returning after their appearance at the festival in 2016 The Rising Souls are a dynamic soulful rock band hailing from Scotlands capital city. Their music is a punchy and intoxicating amalgamation of rock and soul. Think meaty riffs. Think intricate grooves. Think soaring vocals. Think if Led Zepplin had a love affair with Aretha Franklin. The bands songs are refreshingly original and at the same time commercially reputable. Couple this with an explosive stage presence and you have a undeniable formula for success. The Rising Souls are rising to the top and at an alarming rate. Best to catch them now while you still can, in their only hometown appearance for the rest of 2018.
http://therisingsouls.com
Mitch Laddie
After three years of touring, writing and learning Mitch Laddie Band are back with their third studio album, Let You Go. Marked for greatness from an early age by Blues behemoth Walter Trout, Mitch Laddie has been honing his virtuoso guitar playing on the big stage since being signed to Provogue Records at 17. He has released two albums to critical acclaim, and is known throughout the european scene as a volcanic guitar genius with musical subtleties and a maturity far beyond his years, cemented when follow-up album "Burning Bridges" was voted 'Best Blues Album of 2012' by Blues & Soul Magazine.
https://www.mitchladdie.com
The Jensen Interceptors
The Jensen Interceptors are one of the most authentic and exciting Blues bands to hit the UK scene in recent years. Playing in the classic blues style, fronted by harmonica ace Gary Martin, the band tear through a mix of covers by the likes of Slim Harpo/ Little Walter/ T'Bone Walker and Muddy Waters as well as their own originals which are all delivered with the authentic Jensen spin.
Charlotte Marshall & The 45s
Hot off the press, this sizzling seven-piece groove band brings a distinctive flavour of retro to the roots scene. In an explosion of modern sound, delivered both musically and lyrically with flair and sardonic wit, Charlotte Marshall and the 45s are set to make an indelible mark on the blues and roots scene and their scorching live show leaves a dedicated following begging for more.
http://www.charlottemarshall.com
Saturday, Sep 22, 2018 2:00 PM BST / doors @ 2:00 PM
Edinburgh Blues 'N' Rock Festival 2018
at Edinburgh Corn Exchange – Edinburgh,{4}
£30.00 Get Tickets >>
Tickets also available from Tickets Scotland