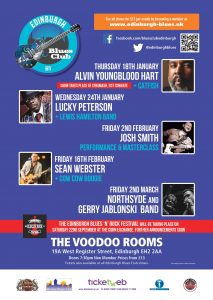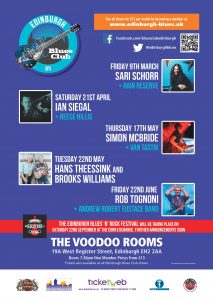 Edinburgh Blues Club has announced a scintillating schedule for the first half of 2018 beginning with a succession of artists from the United States.
January 18th sees Grammy award winning Alvin Youngblood Hart bring his live explosion of blues, roots, country and rock all the way from Memphis to Auld Reekie. He is known as one of the world's foremost practitioners of country blues and his band bends the strings and drops the groove to a level that is only achieved with experience and a true love of playing with such passion.
Hart is closely followed by one of the most distinguished performers of the modern era in multi-instrumentalist Lucky Peterson on the 24th. Lucky Peterson comes to Edinburgh Blues Club for the first time to perform a stunning tribute to the great American jazz musician Jimmy Smith. For this show, Peterson concentrates on the Hammond B-3 organ, his favourite instrument whose warm tone references to the songs of gospel and the hymns of soul music.
February 2nd brings a unique event in a performance and guitar masterclass from blues guitar maestro Josh Smith. Josh has established himself as one of the most talented and versatile guitarists in blues music and has received invitations to perform alongside Joe Bonnamassa and Mick Jagger. In a real coup for the club, instead of a support act, Josh will be delivering a masterclass in blues guitar prior to performing one of his electrifying sets for which he has become famous for.
February 16th brings an act from closer to home in the form of inspiring guitar vocalist Sean Webster. Sean has a burgeoning reputation on the British blues and rock scene and manages to effortlessly straddle the divide between blues and rock, interspersed with splashes of soul and country.
March brings two of the most dynamic and powerful female voices in blues to the capital in the form of Northsyde vocalist Lorna Fothergill and American blues rock sensation Sari Schorr. Northsyde, a grooving combination of soulful blues, shaking funk and Zep-style riffs join forces with Aberdeen's four piece blues rock powerhouse 'The Gerry Jablonski Band' in a double headline show on March 2nd.
Just a week later on March 9th, Sari Schorr brings her unique blend of blues, rock and soul. With solid melodies set against poetic lyrics and the scorching guitar of former Robert Plant guitarist Innes Siburn, Sari Schorr offers a hailstorm of hard-driving blues rock.
April 21st sees the much anticipated return to Edinburgh of blues supremo Ian Siegal. Touring a new album of original songs, his first in six years, Ian brings a performance full of the dark and light, clever word play and rough-hewn voice box he is known for.
After taking timeout to tour as lead guitarist with several high profile rock bands, May 17th sees Simon McBride back with his own jet-fuelled outfit. His guitar skills ('Among the best blues-rock players anywhere in the world', Guitarist Magazine) have made him a go-to guitarist on the British Blues-rock scene. Admired among professionals, followed by enthusiasts and endorsed by some of the biggest brands on the guitar scene, Simon McBride is fast becoming as recognisable a name on the blues scene as fellow Belfastians Rory Gallacher and Gary Moore.
Following this is a double header of acoustic genius featuring Hans Theessink and Brooks Williams on May 22nd. Hans Theesink is one of the fiercest acoustic players in Europe and one of the top acoustic blues stars wordwide. Brooks Williams is a mean finger-picker, a stunning slide guitarist who plays soulful Americana, full on blues and tasty rootsy grooves.
Rounding off the first half of 2017, Rob Tognoni appears on Friday 22 June. Rob delivers a 100% powerfully charged experience with every performance. After 30 years his explosive guitar playing and unique songs are now being compared with the greats of his genre and have firmly established him in the European venues & festivals as well as gaining many fans of hard blues rock worldwide.