Edinburgh Blues Club
Chris Bevington Organisation
with
Chris Bevington Organisation
,
Lights Out By Nine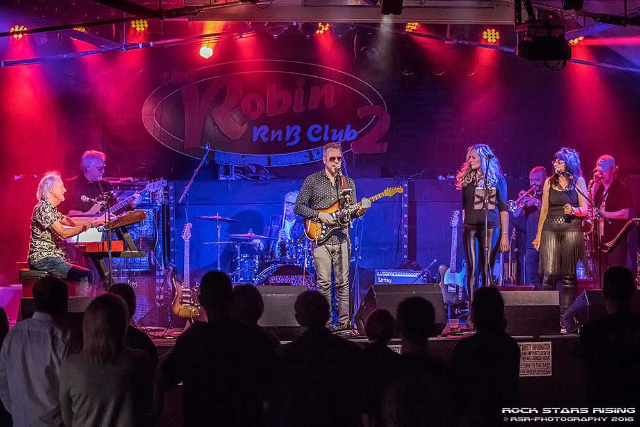 £18
Chris Bevington Organisation
I decided to put this page together because I get asked lots of questions about how the band originally got together, why did it happen and when did it all start. I guess you can blame me for everything and it all started as an idea back 2012, on a beach in North Wales and that's why you see pictures of Rock n Roll, Festivals and Events mixed in with pictures of mountains and scenery, and really the two are very linked, especially at the start.
I guess the story begins as I celebrated my 50th birthday and like most people I guess you take stock of things and what you have done and also more importantly what you want to do or try to do in the future. I have always played music in Bands since I was 15, whether that be Rock bands or Blues based bands and have also enjoyed time in bands that played lots of different styles of music, but my heart always comes back to Blues Music. One of the difficulties I've always faced in music is that I don't sing or write music and I play the Bass and normally stood at the back (I still do that!!), so really I wasn't in a great position to start a music project really, and added to this my confidence was pretty low – I knew that if I got a lot of bad feedback then it would all crash and burn pretty quick. So, based on all the skills I was missing I decided to try and go for it ……. not like me at all really
So, in 2012, I spent some time in Wales and around the Snowdon area and having lots of walking and thinking time I put together a little plan and hoped it would work. There was a number of questions first – what type of music should I play, it would need to be a version of other people's tracks for start, and how many tracks should I try, where should I record it and who should I ask to join me. The original plan was to record four tracks, that's all and it was never planned to be an album. Also it was never planned to be released or anything, it was purely to see if I could create, with friends, a style of Blues that was made up of Brass instruments, Slide Guitar, Full vocals, keys and to create a "happy , upbeat bluesy feel".
The next step was to find some tracks to consider, again this was all very new to me, I had never picked tunes before, so I set off looking for tracks and ended up with 100!!, I guess this confused me more than anything, because I started to realise that I would need to ask some good musicians to join me to pull it off and I didn't have a clue who they could be at that time
As I got the list of tracks down to 20, it started becoming clearer what style I was liking and maybe which Musicians would be interested to help me. The next job was to find a Recording studio and then ask some musicians.
So, in 2013, I went to visit Dan Rowley at Tremolo Recording studio and explained my story. I felt very happy and relaxed, and we agreed to start in 2013. The next job was to invite the guest musicians, I knew they may say no or be too busy, which is fair enough really, there was no rush at all and no end date so there was no pressure. I booked the studio for May 2013 and planned to record 4 tracks, "Dark Side of Love", "Somehow, Somewhere" and "Let me Know" and that was the beginnings of the recording. It was a difficult start and the whole Project nearly failed the night before due to musicians availability but we managed to put the 3 tracks down and then it was the job to invite the guest musicians in and thankfully they said yes and that's how the story unfolded – Scott Ralph, Jim Kirkpatrick, Paul Burgess, George Glover, Andy Carr, Jamie Bannister, Aidan Goldstraw, Mark Hargreaves, Sarah Miller, Rob Wilkinson and many others helped and supported me and eventually the 3 track demo grew into a 11 track Album and the rest is as they say history!!
It was a delight to do and when, in December 2013, it was finished I was delighted. So – what next was the question and this was very uncharted waters for me and maybe the most frightening. I could have left it there and been happy with the Project, shared with Friends and that would have been ok I guess but I was asked to send a copy to Mike Habblett at The Robin 2 in Bilston and although a little concerned sent it off. Two days later Mike loved it and offered me 6 Gigs at the Robin 2 – and the band was created!! From there the Album made its way to UK, European Radio stations and I started getting reviews. This was the most unnerving part – these people review loads of CDs every day and I was half expecting to be on the end of some negative comments. This was the start of the amazing adventure, we had 50 reviews all over the world and not a single bad point, incredible really, the Airplay grew and grew and the next thing you know we are in the UK Blues charts and then the Blues Charts in the USA!!!.
So from this humble start the album makes its way all over the world, USA, Washington DC, Mexico, Brazil, Australia, New Zealand, Europe, Russia, South Africa, just about everywhere and the next thing you know I am up for a Blues Award for Bass playing and we are offered the Main stage at The Great British Blues Festival Colne 2014!!!!
I was ticking off my bucket list daily at one point!!!
So that's how it all started back in 2012 and now we are on the third Album after a wonderful second album with Guests such as Robert Hart, Rebecca Downes, Pete Frampton and many others – just wonderful – Airplay by Paul Jones on BBC Radio 2, gigs at Upton, Cambridge, Lymm, The Robin and many others …
I always keep very close to my little church in North Wales by the Sea and sit there for some chill out time and my mind drifts back to 2012 and the time I had this crazy little idea that grew into this fantastic Project.

Chris Bevington
Lights Out By Nine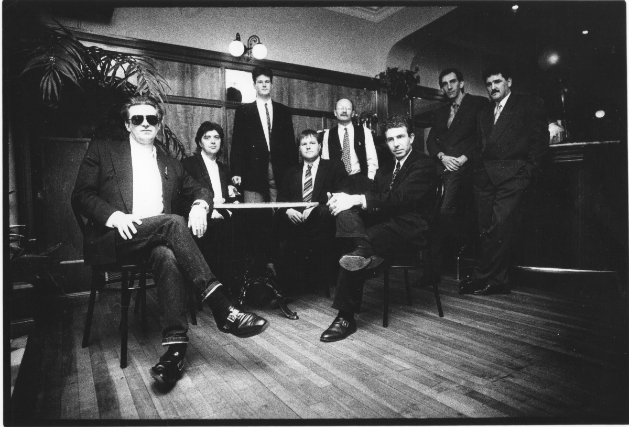 Scottish Band, Lights Out By Nine's origins are firmly rooted in Soul Music, mixed with powerhouse Rhythm & Blues and a blend of New Orleans Funk. They have developed a collection of their own original songs, which has attracted a growing amount of music media attention.
The first ten of those original songs were featured on the "Moving On" album which was originally released in 1998 and premiered by American soul DJ Matt "the Cat" Baldassari on his radio show "Soul Bucket" which broadcast to 6 million people in the Boston, Massachusetts area of the USA.
Subsequently this album was featured on various radio stations all over the world.
A three track single from this album, "Real Love", which was produced by ex Nazareth guitarist and renowned producer Manny Charlton, added to the band's new found status and the live show was quickly developed to incorporate these new self penned songs.
Lights Out By Nine continued to build on their growing reputation as a great live band, playing gigs and festivals with crowds of up to 20,000 as in Edinburgh's Princes Street Gardens.
August 2001 saw the band's third consecutive appearance at the Gardens, the last two being televised live. Two live sessions for BBC Radio Scotland's "Blues and Soul Show" with host Dougie Vipond, and a "Live at the Lemon Tree" were followed by a live session on BBC Radio 2's Paul Jones Show, arguably the UK's premier blues broadcast.
The band's single, "On a Night Like This" was play-listed by Radio Forth for four consecutive weeks, and a track on video from the single "Where White Men Sing the Blues" was released for Russian Television.
In 2003 "Lights Out" signed to Blues Matters Records and released "Good Morning Mr Universe", which featured another 10 original songs from the band. The album has been played all over Europe (East and West) and beyond, to critical acclaim, and features regularly in prestige blues shows in Atlanta and Chicago.
In the meantime, the band continued to build a bigger reputation on the live circuit, having supported Status Quo and Fish at the Rockhill Festival and opened shows featuring Dr Feelgood, Nazareth, Nine Below Zero and Wishbone Ash, as well as repeat shows with the Average White Band.
Lights Out By Nine also had the privilige in 2003 of appearing at the tribute concert at Glasgow's famous Barrowlands Ballroom for legendary Scottish singer/songwriter Frankie Miller.
Joe Walsh from the Eagles headlined the show and a track on the subsequent tribute album released on Eagle Records saw LOBN being included with a host of names from the rock and blues industry paying homage to one of their own.
2004 saw the band travel further afield, with festivals at Colne, the Wickerman, Skegness, Maryport (where Buddy Guy headlined), as well as the major Scottish gatherings at Dundee and Edinburgh, and to cap it all, an appearance at the world famous Cavern Club in Liverpool. The Maryport Festival appearance was featured live on ITV Border.
Their reputation continued to spread, and in 2005, River Records re-released the "Moving On" album, along with a live set titled "The River Sessions" in 2007
Both these albums went on general distribution through Universal Music.
In 2008 the band achieved a remarkable success when "Make Your Own Luck" went top 3 on BB Kings "Bluesville Chart in Washington DC
In 2008 the band's growing reputation saw them perform a Live Radio session for BBC Radio 2 for Paul Jones at the famous Maida Vale Studios, London.
2009 saw another groundbreaking achievement when LOBN recorded their first DVD "Live @ Carnegie Hall" containing a full live concert released by River Records.
2011 saw a return to Radio Album Chart success when "Good Morning Mr Universe" achieved top 4 on BB King's Bluesville Chart once again.
A New Chapter
In 2012 LOBN celebrated their 25 year anniversary with a 'Soul Review' show in Kirkcaldy where it had all started out many years before. With the addition of Hammond Organ to the line up the band started to migrate back to their original Soul roots but this time with a significant Funk vibe which was originally showcased at the Edinburgh Jazz and Blues Festival in 2013.
The next 12 months of 2014 saw some personnel changes as the band started to explore and develop their Funk influences and scope out new material in the studio while continuing to break new ground with appearances at venues in Edinburgh and Glasgow.
In 2015 LOBN were rewarded for their hard work with a support to the legendary Paul Carrack at Darvel Music Festival in Ayrshire as their New Orleans funk influences developed into their set list.
This was followed up with the band supporting American blues man Eric Bibb at the Fringe By The Shore Festival. Further collaboration work featuring former Nazareth front man Dan McCafferty in Fife and good friends Smoove and Turrell in Edinburgh were further highlights of the year.
Moving on into 2016 saw the band venture further afield for the first of two appearances at Newcastle's top spot the Hoochie Coochie Club. A further festival support beckoned and this time with Scotland's 'First Lady' of the Blues, Maggie Bell, at The Fife Jazz and Blues Festival.
A welcome return to the small screen saw LOBN appear on STV magazine show "Live at Five". At the same time, they were preparing for a groundbreaking nine night run of shows at the Edinburgh Fringe Festival performing as the house band in "What The Funk" a piece of theatre telling the musical history of how Funk music evolved from the deep Soul sound of the 60's into the 70's and beyond.
For LOBN it was a case of art imitating life, as the band were to focus on writing new material and saw them return to the recording studio for the first time in ten years. By the end of the year they had emerged from the studio with a whole batch of new funk based material.
Lights Out Hit 30!
Onto 2017 when Lights Out By Nine will celebrate their 30th year in the music business with the release of their first studio album in ten years aptly named "Here and Now" a 5 track EP.
The band will perform at a string of summer Festivals throughout Scotland including Fife, Perth, Edinburgh and North Berwick. In addition to their regular venue appearances, including a return to the Hoochie Coochie club in Newcastle and a regular return slot at the Jazz Bar in Edinburgh, the band have been lined up to appear alongside other artistes including
Nine Below Zero – King Tuts Glasgow
Paul Lamb and The King Snakes – Voodoo Rooms Edinburgh
Martin Stephenson – Backstage Kinross
Following a second appearance on STV "Live at Five", LOBN will return to the recording studio over the summer to complete the second part of their 2017 EP release "Here and Now" with another 5 tracks of new material planned.
In September, Scottish Soul legend and former AWB founding member Hamish Stuart will return to his hometown to perform with LOBN and fellow funksters JBIA at King Tuts in a fitting tribute to the late Matt Irving, a fellow Glaswegian, close friend and former band colleague of Hamish.
Hamish will feature with both bands on the night and perform a number of favourites old and new. All proceeds raised will be in aid of Men United which both Hamish and Matt were closely involved.
Added to that, the launch of the new web site and the LOBN YouTube channel its looking like a memorable year!